"What the hell?"
That is roughly what I said to myself as the Dawgs fell to Texas in January.
Getting left out of the 2018 Playoff didn't really dig at me like it did others last season. Call it the pragmatism I try to espouse on this site, but we all knew the 2018 Dawgs had some flaws that could prove fatal against elite teams. It would've been challenging for them to outscore Clemson — a worthy champion, I'll add — but hell, we had the Sugar Bowl to look forward to!
…
Needless to say, it took me a little longer than normal to amble out of my cave following my offseason hibernation this year.
You add it all together and the Sugar Bowl loss (itself a sound defeat despite the final score), the Justin Fields transfer, Jim Chaney vamoosing to the Vols, and then Mecole Hardman, Riley Ridley, Elijah Holyfield, and Isaac Nauta all moving on to The League early, all felt like the program was breaking free of the foundation that Kirby started to build several years ago, all in the space of a few weeks.
I felt crappy, man. And it stuck around for a long time.
If we review our Munsonian charge, it's not hard to understand why:
My goals for this team remain:

win the games you're supposed to win
compete like hell in games where you're outflanked
represent the University with honor and integrity

The trick for the first two is knowing which is which.

We'll be able to study these games before they happen, note what we expect to happen, and assign them to one of the two buckets: "supposed to win" or "compete".
It's hard to call the Sugar Bowl a "supposed to win" game knowing what we knew about the Dawgs lack of quality linebacker play and Texas' efficient, power spread attack. That was a buzzsaw. But it's also hard to rewatch that game and say that the Dawgs came out and competed for four quarters. That sucked and you can justifiably be angry.
As an aside: We'll probably have to get used to that sort of thing in non-Playoff NY6 games. I can't fault the D[e]andre's for sitting out to stay healthy before the draft, and it's at least allowable that the team was deflated following the SEC title. If the same thing were to happen 10 times, I say we come out flat in the bowl game in 5 of them. *Shrug* It's a whole new Playoff-powered world, and now that the Dawgs are flush with talent, it's likely we'll see more guys forego bowl games in favor of pre-Draft health.

We can hope now that the Dawgs have depth to deal with it, and that they'll compete like hell next time.
All in all, 2018 was a good team. It was nearly a great team, though not quite a great team. Much like the 2017 squad, that's about right.
But, hark! It's the 29th of August and the season starts anew. It's still great to be a Dawg, especially great right now.
---
I've written these pieces over the last four seasons as a catharsis for myself. Knowing how prone to pitchforks DawgNation is, I was nervous that Kirby wouldn't get a long enough leash to build a program with.
Four years on, it almost seems like it was destined to happen anyway.
There's been a sprinkle of luck, but mostly it's just Kirby Smart's steady hand and proclivity for preparation…and a selfless decision by a few seniors to come back and lay the groundwork.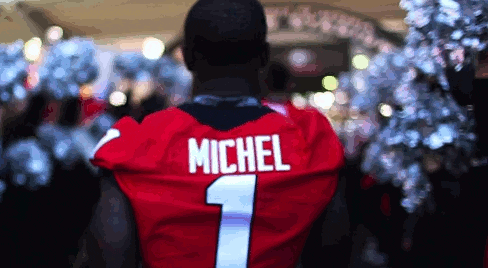 It's taken time to get here, but you get to enjoy the privilege of watching your football team take the field as either the more-talented or equally-talented team against every opponent they play this season. I hope it's not lost on you just how special that is.
It shouldn't be — you've suffered a lot.
Luck can determine outcomes, but the more talented you are and the more depth you have, the more you've stacked the deck in your favor against black swan events ruining the day.
The deck is now stacked.
This team can win.
On Offense
James Coley inherited a good offense when he took the OC job in January.
Of the five primary offensive categories that determine most outcomes, the Dawgs ranked outside the Top 30 in only one of them: starting field position. And if we're honest, that is more a commentary on how much field the 2018 defense was willing to give up to make stops and how few turnovers they forced. The specialists also only managed 20 total returns last season if we discount Eric Stokes block return against Mizzou.
This team moved the ball last year, and they will again.
The offense ranked in the top 10 in rushing and passing efficiency, in the top 20 in explosiveness, 12th in rushes of five yards or more, 6th in average third down distance, 6th in % of first downs coming on first or second down, and 24th in points per trip inside the 40.
In fact, the only areas where the struggled looking at the aggregate stats were in short yardage and goal-to-go situations. Discounting those, you'd be looking at a championship offense.
But you can't discount those and there are more important distinctions to make here.
10 Bad Quarters
If we take the 10 quarters that make up the second half of the Alabama game, the full game against LSU, and the full game against Texas, the Dawgs played a total of 72 first downs, 53 second downs, and 34 third downs.
Of those 53 second downs, the offense found themselves in 2nd-and-long with eight or more to gain 38(!!!) times. And in those 2nd-and-long situations, the offense managed to make up six or more yards only 17 times. If you watch back, those 21 times they didn't convert were drive killers — several in key, momentum-changing situations.
We can look further.
When they found themselves in 3rd-and-4 or fewer, the Dawgs converted only two times out of eight.
So even in circumstances where they made it to manageable third downs, they still didn't convert. Against equal or better competition the Dawgs relied on big plays on first down to sustain drives, and when they couldn't manage them, they sputtered. The real kick in the pants was that the defense — the same one we anticipated would be 2018's Achilles' heal — kept them in all three games for the most part. The offense just couldn't get it done in key moments on second and third down.
Scheming for Confidence
Here's a quick refresher on how the team thinks about offensive strategy:
I'd rather not speculate about what will change under Coley until we've seen them play, but my best guess is virtually nothing. It'll still be the same run-first attack, built to force SEC defenses to overcommit resources to stopping the run, and opening up opportunities in the boundaries for big plays.
Everywhere you look on the 2019 offensive depth chart there are prototype players.
The top 6 offensive lineman–tackles Andrew Thomas, Isaiah Wilson, center Trey Hill, and guards Solomon Kindley, Cade Mays, and Ben Cleveland–will all have opportunities to make NFL rosters, some with hefty guaranteed money coming their way. The same goes for all of the running backs. And Jake is a legend.
The receivers are everyone's question mark, but I thought Coach Donnan made a nice point on last week's UGA Sports Live.
Catching the ball is a function of skill, execution, and reps. The Dawgs have a stable of 10 or more guys that all have size and athleticism that can't be taught. And they just spent all spring and summer competing against the Dawgs' first, second, and third-team defenses, themselves a bunch of thoroughbreds. Pundits might point to lack of game experience as a huge issue for these skill guys on offense, but the second-team defense is better than whatever the hell Florida trotted out last weekend. In other words, they've already been competing every day in practice against the best the conference has to offer.
I suppose maybe confidence among those unproven receivers might still be a problem early on, but the team has three games before Notre Dame in late September to give their top guys as much exposure to game situations as possible.
From Epictetus: "Don't worry until you have to." Or something like that.
I'm more concerned about the Dawgs having a second option against top competition. Kirby will always want to run the ball, but sometimes — like on most second downs against LSU, Texas, and Bama — it just isn't there. Even when you have huge NFL bodies at the point of attack. And the answer can't always be to throw 50/50 balls to the boundary, hoping a taller receiver will make a play and save a drive, particularly this season when we don't know who those guys will be yet.
Sooner or later this offensive staff is going to have to concede that there are other ways to manufacture yardage in gotta-have-it situations that don't look like outside zone, draws, and 7-step drops.
We saw shades of it against Alabama.
Jake is rhythm passer and can be a streaky player if you let him. When things are going his way the ball comes out on time and accurately and he'll string together 9 or 10 completions in a row. When they aren't he'll force balls and lose confidence. The easiest remedy to a loss of confidence? Getting the ball out of his hands quickly and getting ahead of the chains.
You can see how they scheme it above. Terry Godwin gets a favorable matchup on the enormous Anfernee Jennings with motion out of the backfield and the ball comes out quick.
With all the backs — D'andre Swift, Brian Herrien, James Cook, and Zamir White — that are capable of catching the ball from the backfield, and all of the new slot talent –Demetris Robertson, Dominick Blaylock, and Kearis Jackson — there are plenty of guys that can dictate those kind of matchups between and just outside the hash marks. Any one of those guys can win off the break at the line of scrimmage, put a foot in the ground, and get their hands on the ball.
In this humble Dawg fan's opinion, a tempo passing game with an emphasis on the slot receivers and the backs is an essential tool to add to this team's toolbelt before they get to November. It'll give Jake a confidence reset with nice rhythm throws that he can make in his sleep, it'll give all of those receivers plenty of in-game opportunities, and it'll give the offense an option to toggle to when they get behind the chains on early downs.
They've hinted at it for awhile, but it's time to release it into the wild.
Brian Herrien and Solomon Kindley
I used to include a little "guys to watch" piece in each offensive and defensive section of these previews, but now I just to like to use it to talk about guys that I think deserve the praise.
I mean, how got-dang awesome is it to see both Herrien and Kindley get the kind of love they've received this offseason? Herrien brings a smile to my face any time I see him mentioned in articles and practice notes. A senior who battled his way onto the team after having trouble with academic eligibility and waited his turn behind at least three NFL backs, potentially four or fivee. And now with D'Andre Swift supposedly a little dinged up and the young guys not quite ready to be featured, he's got an opportunity to be great and hopefully make some money himself. I don't know that I've ever seen anyone run quite as hard as him, I'm glad for one more go 'round. DGD.
Same with Kindley. Not nearly as highly touted as virtually everyone else in the O-line room, he battled through a number of injuries, competed behind veterans and blue-chippers, transformed his body into a force, and quietly became one of the best guards in the SEC. He even garnered 2nd team All-SEC honors in the offseason. I'm just excited for the guy to have an opportunity to dominate and make his way onto a roster in The League next year. With a solid season, he's a first day pick.
On Defense
Modern defense is a balancing act, where defensive coaches are constantly trying to keep as much speed on the field as possible without sacrificing much to the opposing offense's running game.
I laugh every time I think about it from the vantage point of evolution. Offense's continue to find ways to game defenders, get them out of position, and get the ball where they ain't. Evolution responds by just growing extremely large, fast people. For example, Clemson somehow has a defensive back named Isaiah Simmons who is 6'4″, 240 lbs. and has enough speed to challenge smaller slot receivers stride for stride while still holding up in the box against the run.
Alas, you can grow 'em as big as you want, but if you can't solve for gap integrity:
https://gfycat.com/unselfishinfatuatedeel
And setting the edge:
You're going to have an extremely sad time.
If you'd like to review how the Dawgs approach defense you can find more here:
The Dawgs keep five defensive backs on the field about 75% of the time. It's a handy strategy, especially when you can set the edge:
And maintain gap integrity:
Because it allows them to keep bodies in the secondary to defend against the deep ball, without over-committing resources to the run game. But when you CAN'T SET THE EDGE:
Or MAINTAIN GAP INTEGRITY:
Things can fall apart:
I hinted earlier that this defense wasn't quite as bad as we make it out to be, and actually played admirably in spots, especially in the big matchups last season. On the whole, they surrendered a lot, giving up "successful" plays (based on down and distance) to opposing offenses 41% of the time, but they ranked 3rd in the country in preventing big plays. It was a very "bend-but-don't-break-ok-you-definitely-broke-a-few-times" year for the 2018 defense and they eventually paid the price for it when the offense couldn't pick up the slack. They just didn't have the personnel to manage what Kirby envisions down in and down out.
Fortunately, that changes this season.
The first, pleasant change comes on the defensive line, where you can just start to make out the semblance of depth in the middle if you look close enough.
Sophomore Jordan Davis was a man last year, and Devonte Wyatt played the best game of anyone on the defense in the Sugar Bowl according to PFF. Seniors David Marshall and Michael Barnett return and junior Malik Herring has developed into a force. There's even some freshman talent coming in Travon Walker, that will hopefully allow Tyler Clark the opportunity to transition back into his natural 1-gap, interior rushing skillset. The Dawgs have big bodies that can rotate at least two-deep and maybe three-deep by the time we get to November. A welcome change.
Bless Jawan Taylor's heart, but he just wasn't the guy at linebacker last season, routinely getting out of position and missing assignments in big spots. Now there's speed, size, and talent inside in sophomore's Channing Tindall and Quay Walker, and a third-down beast in freshman Nakobe Dean.
The crown jewel of Kirby's recruiting monster is an outside linebacking squad that goes a solid three-deep and features JUCO transfer Jermaine Johnson, consensus #1 recruit Nolan Smith, Adam Anderson, Azeez Ojulari, Robert Beal, and Walter Grant. The defense is going to physically look different this season — all of these guys are stallions.
As if it needs to be said again, so long as the front seven can maintain their gap integrity and set the edge, this defense works. Now that there are bodies capable of generating pressure on their own, the Dawgs won't need to overcommit resources to getting pass rush or standing up opposing run games. And the secondary — full of top-end talent in their own right — will benefit.
It's been a long time since the Dawgs had a defense that could reliably generate pressure, hold up at the point of attack, and force turnovers. That changes this season, and the whole team will benefit.
Richard Lecounte and Eric Stokes
People gave Richard a lot of crap last year for poor tackling and bad angles on ball carriers. But truthfully he was just the last guy to fail on every play that made him look bad, you just didn't notice the guys standing in front of him that missed assignments and forced Richard to play out of position. He's a top-tier athlete that's going to benefit in an enormous way from the new blood and experience in front of him.
And I'm here for the Eric Stokes story, man. What an animal. It's barely been two years since he looked lost as hell in the spring game and now he's on All-SEC watch lists everywhere. In much the same way as Lecounte, Stokes will benefit from the pass rush and run stopping capability of the front-seven this season. He's already shown a knack for staying in the receiver's pocket. Now he gets to eat.
The Schedule
For all of you juniors out there with your full season ticket package at $8/game, you owe me a beverage.
It's a helluva slate this year at Sanford, and yes, even for those watching at home reluctant to part with $900 for a ticket to Notre Dame. ESPN FPI, a composite stat that ranks teams based on a number of factors like returning production, coaching tenure, recruiting, and a bit more. It's got the Dawgs favored in every game with a few nail-biters:
I don't buy the Florida or Tennessee hype against the Dawgs this season. Bill Connelly's SP+ has the Dawgs at ~29 points per game better than the average team.
Those teams are average, maybe slightly better than.
But I do think there's a loss hidden in here somewhere, and frankly, the Dawgs might be the better for it. Great teams get tested and that slate from 10/12 on through 11/23 is a gauntlet. The surest path to the title game is just to win all the other one's before it, but winning in Atlanta in December — even with a loss — would see them into January.
This team has all the trappings of a title contender. It's a nice time to be a Dawg.
—
One final note on the season: being a casual Dawgs fan has become a Championship or nothing proposition. It's worse for many of the diehards, wondering if some of these years have already been a waste with no titles to show for it. Most of what I write here is to defend against that kind of thinking.
Championship or bust is the kind of Faustian bargain you don't want to strike.
There are a lot of subtle joys of getting to watch a good football team over 12 Saturdays in the fall. You have seniors like Kindley and Herrien who have busted tail, waited their turn, and represented the G with a lot of honor and integrity. There are younger guys like Stokes that you've gotten to watch mature from raw beginnings into dominant players. It would be a shame to negate all of their effort because you didn't get to raise a[n admittedly dumb-looking] trophy at the end of the season.
I'd settle for one, and I'm cool with waiting for it. But I don't think we'll have to be waiting for much longer.
Enjoy yourselves this season, whatever the outcome.
Go Dawgs!
https://gfycat.com/pessimisticvengefulicelandgull