There was some discussion this offseason about the loudest Sanford Stadium has been in recent years. My vote came easy – the loudest single moment I've experienced in Sanford came when Todd Gurley brought the opening kickoff back against Auburn in 2014.
You'll remember how narrative-heavy that moment was.
Todd had been suspended four games for reasons too petty to remind you of and in his absence the Dawgs got throttled in Jacksonville. As they'd already notched an early-season loss to SC in week two, that Dawgs team had lost control of their destiny in the East. The fans knew it and responded like only Dawgs fans would. They showed up in droves prepared to ruin Auburn's night.
When Todd broke through all of the angst and frustration of a snatched-away season evaporated.
The lid blew off the stadium.
—
The second loudest moment I've experienced at Sanford was equally fueled by narrative.
Zach Mettenberger, Odell Beckham, Jarvis Landry, and the LSU Tigers showed up to Sanford in late September of 2013 an undefeated football team with title aspirations. The Dawgs had dropped a game in week one to Clemson, but were still hunting for a title shot themselves.
Besides his mom, there wasn't a soul among the 93k people in the stands that day that didn't want to see Mettenberger, the misbegotten local cast-off, buried.
To his credit, he played a helluva game and had an opportunity to take the lead with two minutes left to play in regulation.
My voice — I'm not exaggerating — has never been completely the same after the fourth quarter of that game. Todd Gurley breaking away on the opening kickoff against Auburn in '14 may have been the loudest single moment I've experienced at Sanford, but the second half of that game against LSU was the loudest sustained noise I've ever experienced at a sporting event. Every person in the stadium that day was invested in effecting the outcome of the game, and they did.
On the first play after the Dawgs had taken the lead — less than two minutes left, the crowd in full throat — Leonard Floyd wrapped around on a stunt and hit Mettenberger as hard and as violently as the game allows.
The student section lost it.
There were red pom-poms raining from the sky.
—
This weekend marks the Tigers first opportunity at revenge since that game in '13 and it's largely a role reversal.
This time the Dawgs go to Death Valley the undefeated team, slated to play the one-loss Tigers. I think if you asked most Dawgs fans, any animosity they might've felt towards LSU back then has largely faded. The cherub, Coach O, is about as lovable an opposing coach as you'll find and the personalities of the past — Tyrann Mathieu, Mettenberger, Beckham Jr. — have all moved on. The Tigers are a worthy opponent and a fine midseason test for the Dawgs.
On the other side, ain't nobody in Baton Rouge feeling any kind of love for the Dawgs. A week after an exhausting loss to Florida, the Tigers can't afford another.
They're backed into a corner and plan to hit us in the mouth.
Five Factors
My dream at the end of this season is to publish a post that can act as an UGA advanced statistical profile reference whenever you read one of these posts. I'll include examples from this Dawgs team within so that you can refer back to it as you read future posts. For the moment though, I'll walk through each one briefly as I go.
Hats off to Bill Connelly at SB Nation for his lovely, lovely advanced stat profiles and  SQL know-how. He's a Missouri Tiger, but we'll grant him that fatal flaw in light his invaluable contribution to advanced analytics for college football. You can reference Georgia's current advanced stat profile here if you are hungry for numbers.
In general due to small sample sizes, advanced analytics in football have trouble being predictive, though a composite analysis of five factors of the game does as good a job as we can hope for at being both predictive in individual contests and for the season as a whole.
If you can be efficient, explosive, establish a field position advantage, finish scoring opportunities, and land on the right side of turnover margin you stand a winning chance of being pretty good.
Bill takes the five factors — success rate, explosiveness, average field position, points per scoring opportunity inside the 40-yard-line, and turnover margin — and builds a composite metric he calls S&P+ that we can track for teams as they progress throughout the season.
How's LSU lookin'?
Like a top-25 team that isn't quite a top-10 or 15 team.
LSU's defense resembles the Dawgs' in that they're elite at preventing the big play — they rank 6th in defensive explosiveness — but unlike the Dawgs, they're also decent at keeping offenses behind the chains. They rank 58th in success rate, allowing opposing offenses to gain the necessary yardage only 39% of the time.
That might not seem intimidating, but a decent success rate against and an elite ability to avoid the big play leaves you with a recipe for winning defense. If the Dawgs defense had a 39% success rate against I promise you we'd be dancing in the streets. Excellent defensive starting field position has been in the Tigers favor as well. Opposing offenses on average are beginning drives inside the 25.
Any way you look at it, they make you earn it.
On offense though, they are anything but elite and struggle in every area. They rank 93rd in explosiveness, 78th in success rate, 86th in expected turnover margin, and 53rd in points per scoring opportunity netting less than 5 points for each trip inside the 40.
Whether through the air or on the ground it's an offense that's had trouble moving the ball and scoring when it's had opportunities.
That all in mind, I can't help but watch this team and think it's just another version of the same LSU product we've been watching for more than a decade. Great/excellent defense paired with poor/mediocre offense. Their recipe for beating teams is to out-physical them for four quarters, remain stingy in the red zone, and force turnovers.
It's an older brand of football that works for them some of the time.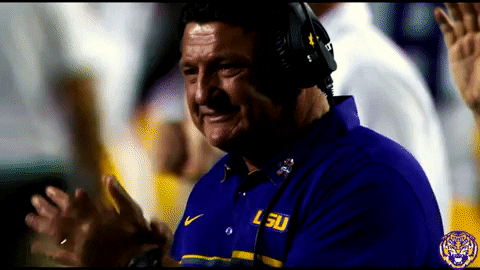 Dawgs on Offense
This Dawgs offense hasn't completely self-actualized yet, but it's starting to feel close.
It hasn't always been pretty, but the Dawgs have gained the necessary yardage 54% of the time — good for 5th in the country — and rank 16th in explosiveness. Despite slow starts and untimely penalties, they've flashed in spots and been able to finish. This is an offense with all the tools to be championship-caliber.
Can the Dawgs run base offense on LSU's defense?
Early on, probably not. But I wouldn't expect them to try.
You'll remember that the Dawgs always work to get back "home" with their offensive scheme. "Home" looks like inside zone, outside zone, and iso.
Inside Zone:
Outside Zone:
Iso:
They don't necessarily need to start there in order to dictate and score, but it's where Kirby and Jim Chaney always want to get back to. They think that over the course of a game, a consistent downhill running attack will outlast most defenses. South Carolina, Tennessee, and Vanderbilt would agree.
While Dawgfans have lamented the pace of play in recent weeks, the numbers speak for themselves. The Dawgs rank 7th in the country in rushing marginal efficiency (based on down and distance, they are elite at gaining the necessary yardage when running the ball) and are gaining at least 5 yards a carry 59% of the time.
Fans outside of the SEC will decry the Dawgs for playing a JV schedule so far, but even against inferior opponents — and with a shuffling offensive line — that's impressive.
—
Dave Aranda's defensive strategy at LSU resembles what you've grown familiar with from Kirby and Mel Tucker.
Aranda will show two, three, and four-man defensive fronts with either a single high free safety playing cover-3, or two high safeties playing cover-4. On early downs you'll see "tite" three-man fronts designed to clog inside running lanes and free up inside linebackers to flow to the ball. It's a defense designed to allow unblocked players to be aggressive, dictate mismatches, and force turnovers.
They've been ok at it so far. They haven't affected the passer as much this season as in recent years (72nd in sack rate) but they've made up for it by completely snuffing out big plays (6th in explosiveness against) and playing consistently against the run (46th in rushing success rate against) and pass (44th).
From a personnel perspective this LSU defense reminds me of what the Dawgs saw in last season's SEC Championship game against Auburn. They have a couple stud interior defensive linemen in Rashard Lawrence and Breidon Fehoko, an elite interior linebacker in Devin White, and a couple elite defensive backs in Greedy Williams and Grant Delpit.
There's skill at every level, but not on the bench. They've struggled in both recruiting and with injuries.  It's a talented starting 11, but there's not much spell them with. That in mind, what do we know so far?
They intentionally clog interior running lanes on early downs, they play an overly aggressive style of defense intended to force as many turnovers as possible, and they lack depth at virtually every position on defense. I'll add one more: while they have length in the secondary, both of their starting corners — Williams and junior Kristian Fulton — are at or below 190 lbs. You see where this is going.
The Dawgs will attack the edge early to beat this team.
If you remember back to the SEC Title game, the Dawgs forced the ball to the edge on 15 of the first 20 offensive plays. By kicking the ball out to the edge on swing passes to backs and receivers, bubble screens, and sweeps they triggered all of Auburn's interior defenders to run in pursuit on every play. The corners were forced to be involved on virtually every tackle.
It's a strategy designed to tire out a defense and weaken them from the outside in.
Much has been made this season about how bought-in the receiving corps has been with blocking. They'll get rewarded for it again this week. Involving the corners early on all tackles and getting a body on them for every running play will soften this secondary quickly. It's been rare this season that the Dawgs have passed first to set up the run. But once they've asserted themselves on the edge, these receivers could stand to have a day.
While the Dawgs likely won't be able to run base offense to start, they'll be able to pass in order to set it up in the second half. You saw Chaney flex the ingredients of that strategy in both the Tennessee and Vanderbilt games the past two weeks. They practiced tempo and passed the ball on early downs. All of those elements will be necessary to move the ball on LSU.
Once the Dawgs have managed to force the Tigers to dip into their bench, they'll be able to lean on them with the inside running attack.
Justin Fields
There's been a lot of discussion about Justin Fields in the two weeks following the Tennessee game, after which Kirby confirmed the Dawgs have "no plan" for Fields. It's not that there isn't a plan in place here, just that it isn't something that is decided before the game (even if it was, you wouldn't know about it). Every time Fields has entered the game has been a result of circumstance.
Against Tennessee, the Dawgs had opportunities to beat the Vols vertically and missed.
After they whiffed on their shots downfield, Tennessee walked extra defenders into the box and made running the ball difficult in the interior. Bringing Fields into the game was the easiest way for Chaney to flip the numbers advantage back in the Dawgs favor.
This weekend against LSU you might see the same strategy again, and you might see it early.
Both Kirby and Chaney know they'll be taking the team into an awful crowd environment. The first two drives of the game will be as much about disarming the crowd as attacking LSU's defense. The Dawgs have notched only 21 first quarter points over the last three weeks. That will need to change.
The first two drives will be a dance between Chaney and Aranda. If for some reason the Dawgs have trouble completing passes on early downs in the first 20 plays and LSU sells out in order to take the run away, Fields could enter the game.
Scoring early points is that essential.
Blind Spots?
Both the stats and the eye test will tell you that the only trouble the Dawgs have had on offense has been protecting Jake Fromm in obvious passing situations.
On passing downs they clock in at 120th in the nation, allowing a sack nearly 15% of the time. They've combatted that by improving their average third down distance to 6.6 yards (good for 23rd in the country) and by managing most of their first downs on 1st and 2nd down. Staying ahead of the chains keeps the Dawgs out of trouble. I'm reaching though — this offense is really good.
Dawgs on Defense
The emergence of Jordan Davis last weekend against Vanderbilt feels a lot like one of two things to me. This is either the Dawgs cramming for a test the night before, or it's the product of many months of quiet preparation.
One thing's for certain: he ain't gonna make things any worse.
It's been hard to avoid the word "concerning" when reading about the Dawgs run defense over the course of the last six weeks. I don't like that word — may as well just call it "bad", IMO — but it speaks to the larger purpose of why I write about Georgia football. When you can define the limitations of something, you can set expectations for it.
You can try to fake run defense as long as you want, but if you don't have the dudes, you don't have the dudes.
I want to give Julian Rochester internet daps for his effort since he showed up at Georgia. He's a capable player who has worked really hard to get into playing shape. When he shifts down to play three-technique defensive tackle he plays just fine, but the poor guy is in the wrong spot trying to lock down the nose. With Rochester getting pushed back in the interior and the inside linebackers — RIP Juwan Taylor in the gif below — either over-pursuing or arriving late, this team hasn't shown itself capable of stopping the run on early downs.
The numbers agree.
The Dawgs rank 95th in rushing marginal efficiency given up, and they are allowing at least five yards a carry 50% of the time. That might be worth repeating.
Half the time opposing offenses choose to run the ball, they gain at least five yards.
Great googly moogly.
It's not helping the cause on 3rd down either. The Dawgs are 127th in the FBS in average 3rd down distance (5.9 yards). That's really the saving grace of this defense. Even though they've been losing repeatedly on 1st and 2nd down, they've been able to find a way on 3rd. They're allowing only a 31% success rate against on 3rd down, and rank 23rd in 3rd-and-long success rate against, 21st in 3rd-and-medium, and 6th in 3rd-and-short.
You have to give them credit. They may bend, but they've been knuckling up with their backs against the wall.
Some of our older brethren in the stands may be reaching for their heart medication more often than they'd like, but it's working. Whether it will continue to against better competition remains to be seen.
—
Fortunately, they won't be facing better competition this weekend.
I kid you not, Tennessee has a better offense in nearly every statistical category than LSU does.
For an offense predicated on establishing physicality and running the ball, LSU is only ranked 65th in rushing marginal efficiency (to Tennessee's 56th). Whether run or pass, on standard downs they are only getting the necessary yardage 46% of the time. They require an average of 7.6 yards on third down and have converted only  33% of their third downs thus far — good for 106th in the country.
Standard down: First downs, second-and-7 or fewer, third-and-4 or fewer, and fourth-and-4 or fewer. These are the downs in which the offense could conceivably either run or pass and therefore has an overall advantage over the defense. Offenses typically run about 60 percent of the time on standard downs.
Their feature back, Nick Brossette, is a solid player but he already has plenty of tread on his tires. Through six games he has the same number of carries (118) as D'Andre Swift and Elijah Holyfield combined. Joe Burrow is a serviceable quarterback but they haven't been able to keep him upright, and even when they have he's only notched a 53% completion percentage.
I could speak more to strategy here, but I doubt you'll see much different from what you already have against Tennessee, South Carolina, and Vanderbilt. The Dawgs will rely on their secondary to limit all big plays and commit any resources they can to stopping the run.
Can the Tigers run base offense on the Dawgs?
Probably. Base offense for LSU looks like Iso and Power plays out of Pro-style sets. If Jordan Davis can provide a leverage point at nose on early downs — even just on 1st downs — that would go a long way.
If the Dawgs find a way to get Joe Burrow into third and medium-or-long, the Tigers patchwork offensive line hasn't proven that they can protect him. Even if the Dawgs don't bring extra pressure, I'm not confident Burrow could complete passes when faced with a defense that drops seven into coverage.
This matchup comes down to winning first down. The Dawgs haven't proven the ability to do it yet this season.
Maybe this is the week.
S&P Prediction and Game Grade
S&P+ gets reflected as a number – that number is an adjusted scoring margin. It's an expected point total against an average team on this year's scoring curve in the FBS.
To date Georgia ranks third in the country in total S&P+ at 25.2.
LSU is ranked 19th at 13.6.
S&P+ predicts a two-score game, with the Dawgs favored by about 12 points.
Frankly, I don't see it being that close and with a couple early scores could see it even getting out of hand. However, weird things happen and in two-score games, it's worth considering the fringe factors that can dictate outcomes.
Penalties
The Dawgs rank 94th in the FBS averaging 64.4 penalty yards per game.
LSU ranks 85th at 62.6.
You could call that a push – but with both teams proving undisciplined so far, they're playing a fool's game. If one can iron this area out they stand a heavy advantage over the other.
Field Position
When Georgia is on offense: The Dawgs average starting field position on offense is the 29-yard-line (89th in the country). On defense, LSU has managed to force opposing offenses to start just inside of the 25 (good for 5th). Advantage LSU.
Worth noting the Dawgs average starting field position has been influenced heavily by penalties and miscues on special teams. Unforced errors aren't doing them any favors. A winning gameplan for LSU looks like making the Dawgs drive the length of the field.
When LSU is on offense: LSU starts their drives on average the 31-yard-line (38th in the country). The Dawgs defense has begun it's drives on average at the opponent's 27 (31st). We'll call this a push. Jake Camarda had his first great punt in a few weeks on Saturday against Vandy.
An inconsistent freshman punter in his first truly meaningful action — in Death Valley no less — isn't appealing. Here's hoping the Dawgs won't need him much.
Turnovers
LSU has benefited from some pretty excellent turnover luck this season. Their differential between expected turnover margin and actual turnover margin would've equated to 4.8 points per game. If the ball starts bouncing the other way they could be in for some trouble.
The Dawgs on the other hand have roughly equivalent expected turnover margin and actual turnover margin. We know Jake has had trouble holding onto the ball this season, but the Dawgs have managed to pounce on those and force enough turnovers of their own to offset them.
From Football Study Hall's Advanced Stats Glossary:

Turnover Margin

What a team's turnover margin would have been if it had recovered exactly 50 percent of all the fumbles that occurred in its games, and if the INTs-to-PDs for both teams was equal to the national average, which is generally around 21-22 percent.

If there is a huge difference between TO Margin and Adj. TO Margin (in other words, if fumbles, dropped interceptions, or other lucky/unlucky bounces were the main source of a good/bad TO margin), that suggests that a team's luck was particularly good or bad and might even out either in the next season or in the rest of the current one.
Both quarterbacks take pretty good care of the ball. Though Burrow made a bad decision last weekend against Florida when he was playing from behind in the fourth quarter. If they Dawgs establish a lead early, that would force Burrow's hand.
I'm putting the arrow in the Dawgs favor here.
Scoring Opportunities
When the Dawgs are on offense: The Dawgs offense averages 5.23 points per trip inside the 40 (30th in FBS). LSU's defense is ranked 59th in the same category, allowing 4.36 points.
The Dawgs rank 18th in success rate between the 21 and 30-yard line (51% conversion) and 9th between the 11 and 20-yard line (58%). Most of their scoring plays so far this season have come from those distances. They haven't been too hot inside the 10 (42%), but there haven't been very many opportunities — their efficacy at the goal line remains to be seen.
On the other side, the Tigers rank 81st in success rate allowed between the 21 and 30 (45%), and 86th between the 11 and 20 (42%).
Dawgs get the nod here from the statistical perspective.
From a strategy perspective, I'd still give it to them. With the speed they have out of the slot and backfield and size they can place on the outside, it will be difficult for LSU to matchup in the red zone.
When LSU is on offense: LSU is getting 4.82 points per scoring opportunity (53rd in FBS) whereas the Dawgs D is allowing only 3.76 (22nd). Indeed, bend don't break comes through here as well.
Between the 21 and 30, LSU ranks 39th with a 48% success rate. The Dawgs rank 5th, allowing the necessary yardage only 25% of the time. Between the 11 and the 20, LSU has a 36% success rate (90th in FBS) and the Dawgs are giving it up 63% of the time (128th). First and goal is a push with both teams performing poorly.
If they can keep them out beyond the 20, the arrow goes to the Dawgs. If not, anybody's guess.
Final Thoughts
Great teams get tested. The 2017 Georgia Bulldogs were a great team that got their world rocked in Auburn, Alabama in November before winning the SEC title and the Rose Bowl and December and January. The 2018 Dawgs haven't yet had that opportunity and maybe this weekend in Death Valley is it.
I liked what CKS had to say after Jeremiah Holloman dropped the ball before making it into the endzone in Columbia.
"It's just a disrespect for the ball and your teammates."
Indeed — JJ is a great player and I'm sure felt terrible, but you can appreciate the greater point. There are rough edges around this year's team that haven't yet been ironed out. Unforced errors have thwarted potential scoring opportunities, handicapped field position, and resulted in points for opponents. Sometimes it takes getting punched in the mouth for the message to sink in.
A road test in week 7 in Baton Rouge, Louisiana will promise plenty of those.
—
I like to grade games before they happen as either games we should expect to win, or games in which we'll need to compete like hell (where a win is anything but certain). Even in a losing effort, if they play a great game it's still something to be proud of. If this Dawgs team had played perfect (perfect up to the understood skill level of the team to this point) football coming into Saturday I wouldn't have a problem labeling this a game you could expect to win.
But they haven't yet and they have to go to Baton Rouge. There's a part of me that's hoping this game plays out tighter than I think it will. I'm hopeful the Dawgs will struggle a little bit against a worthy opponent so that they're all forced to compete at a level they haven't had to touch yet.
I'm putting this one in the "compete like hell" category.
Glory, glory!