My immediate thoughts as the confetti fell last season and the Dawgs headed home from Mercedes Benz as national runners-up:
"That's about right for this team."
—
Last year was a steady march of inflection points in the development of a football program that could have easily all gone wrong. We could have walked out of last season with a 7–5 record, a Gator Bowl invite, a tenth-or-worse recruiting class, a[n actual] QB controversy, and a divided locker room.
Even a three-loss season last year would probably have sent most of our fanbase clamoring and scared away a number of the prized recruits CKS managed to land. You'll remember everyone from Nolan Smith to Jamaree Salyer to Justin Fields waxing "we'll see how they do this year" around this time last season. There's a world out there in which CKS has very little time to put together a winning program.
Instead…things are alright.
Last year's trip to The Dance bought Kirby a lot more time, earned him and the staff a lot more money, and resulted in some laughably overdue upgrades to facilities and gameday experience.
In last year's post I wrote:
I'm pretty pragmatic when it comes to 'ball. I'm willing to give CKS the same 16 years that CMR had to build a winning football program, because sometimes it takes that long.
It's comical now that I felt responsibility for injecting pragmatism into DawgNation. Kirby earned your confidence all on his own.
—
And yet somehow, in every "mailbag" post I read across the Twitterverse folks are still fixated on a "schedule."
How many wins is acceptable this year? What would be considered an abject failure? Based on the timeline that other teams took to win a championship, are the Dawgs "on schedule?" You can feel the entire state bracing for a let-down and the beginning of fall practice hasn't even started yet.
I guess that's still understandable. When you've had to live through the bad so much, the easiest defense is to prepare for it in advance.
Isn't it about time for a reframe?
You did just enjoy one helluva dream season. Luck and providence shone on you all the way to the bitter end. Even if you did endure a moment of despair after the final play, it didn't take long for everyone to think - "Well, even if that was tragic, I've never been quite so proud to be a Dawg." And not in the (forgive me) pathetic "we just lost to Georgia Tech at home and they're defiling the hedges but our school is still better" way. Instead, just proud you were along for the ride.
That on it's own is something new.
In that spirit, maybe we take another approach to the beginning of the year as well?
My dream for this team has always been:
win the games you're supposed to win
compete like hell in games where you're outflanked
represent the University with honor and integrity
I like the way that Kirby puts it - potential vs. execution. Measuring one program against another is the perfect way to get a coach fired. It's the reason why Gus Malzahn is the second-longest tenured head coach in the SEC - and he's only been at Auburn since 2013.
But if you know you have the beginnings of a strong team, you dream up the very best version of that team and coach to that standard. You expect a level of success consistent with the team's potential and grade the year based on that.
Last year's team looked like a three-loss team to me. There was youth and inexperience on the line, a depleted secondary, and a specials unit that was mostly an unknown. Each of those deficiencies was worth a loss or two all on their own, and with the exception of specials (where I was oh-so-stoked to be wrong) the season unfolded according to where the Dawgs were weakest. Auburn and Alabama both loaded up against the run, forced the Dawgs to fail on first and second down, and made plays over the top of the secondary in their respective wins.
Making the Playoff alone was a massive achievement. But that they ultimately lost in the title game to a team with just the right means of exploiting them, just a bit (ok, plenty) more composure and experience in title fights, and just a bit (ok, a metric ton) more luck going their way was what I would categorize as about right for the 2017 Dawgs. They played the best version of Georgia football we could have expected (and have seen in some time), and lost in the final game of the year.
If we now apply the ole potential vs. execution formula to our Dawg-fandom it doesn't do much to temper expectations for this year's team - this may be the most exciting Dawgs team to watch yet - but at least it puts the program's success in the context of where we've been. And it prevents you from needing to schedule your discontent.
There are surely weaknesses on this team that can't be ignored, just like there were last year. But it's no mistake that this year's team is favored in every game they'll play - by more than two scores in all but two of them.
So let's use that as our standard. A one-score game could go the way of luck and so it's reasonable to expect a couple losses here. Maybe more than reasonable considering question marks on the defensive front, second-level, and on specials.
But hell, let's be hopeful too. We're close to Saturday's in the fall dammit - Saturday's in Athens between the hedges.
Brook Whitmire is two weeks away from introducing your "SEC Champion, Rose Bowl Champion" Georgia Bulldogs as they run out of their new tunnel and onto the field. Kirby has earned your trust and your patience. This is a badass program that has already had a measurable impact on the community. Vanity though it might be I don't think this is insignificant:

The point is clear - Dawgs football is fun now, we care a lot about it, and this season has the makings of something special. It's time to stop bracing for failure, and let Kirby take the wheel.
Glory, glory!
On Offense
What a change for Coach Chaney this season, showing up to SEC Media Days a much trimmer, more joyful version of himself. A stark change from the year before when he had to answer for this:
There was some post-Brian Schottenheimer PTSD that prompted DawgNation's wrath upon CJC after the 2016 season, but honestly I think it was more about buyer's remorse again. For all the hell DawgNation wished upon Coach Bobo, those were some damn productive offenses. We laughed our way to the Playoff last season, but coming into 2017 there was a prevalent feeling that Chaney might not be the right fit at offensive coordinator. And what a shame that would have been if we managed to land the most talented head coach of his generation in Kirby, Jacob Eason, and a small window to capitalize on it, but no coordinator to pull the best out of him.
Always this sense of urgency in college football - it's impossible to escape it unless you win.
CJC is still catching some hell for the last 12 minutes of the 4th quarter in the title game, but I think that's misplaced. By almost any measure, last year's offense under Chaney was a coup. The Dawgs ranked 22nd in overall success rate on offense - a measure of how often you gain the necessary yardage each play - compared to 82nd the year prior. They were also one of the most explosive offenses in the country, ranking 11th in IsoPPP (on plays you were successful, how successful you were), a year after ranking 96th.
And when the Dawgs got opportunities, they capitalized. A year removed from finishing 120th in points per trip inside the 40, the Dawgs finished 6th.
Damn.
And it's not like the cupboard was completely full either.
This time last year freshman Andrew Thomas was an unknown at right tackle. There were question marks at both guard positions. D'Andre Swift was tearing it up in summer workouts, but was mostly an unknown. Javon Wims had a great spring game, but was hardly an established threat on the outside. Mecole Hardman was a known entity in terms of his speed, but definitely not for capability on offense. And Jake Fromm had never taken a college snap.
I'll grant you that credit is certainly due to the players. When you have Sony Michel doing crap like this on 3rd and long, you'll take it every time. My fourth favorite run of the year:
My third favorite run of the year:
You could also credit a shocking lack of major injuries, with the notable exception of Eason. But Coach schemed around a lot of deficiencies last season, and the Dawgs went to the Natty in large part because of him. The SEC Championship game alone is a massive credit to his flexibility as a play-caller. A few weeks removed from appearing stubborn at Jordan Hare - running headlong over and over into the teeth of Kevin Steele's loaded defensive front - CJC attacked the edges in Atlanta and had Auburn on the ropes the entire night.
The same could be said for the National Title.
I bet if you asked Coach, he'll tell you that he stopped hunting for about five plays in the fourth quarter against Alabama. But I have empathy for him. It's a hard game to call when you're charged with bleeding clock against a defensive front that's rotating in 8 guys. The line stopped getting push, Sony was laid up, and despite their skill down the field, last year's crop of receivers was never elite at getting separation off the snap. Even if the play-calling appeared conservative, he didn't have a ton of options. Again, that was about right for the 2017 Dawgs…and that was all she wrote.
—
This year the cupboard is decidedly full.
If I were looking to build an offensive roster to attack SEC defenses I would construct it like this team. It's a copycat league, and for the most part, teams are taking the Nick Saban, Rip/Liz scheme and running with it. Look anywhere you want - South Carolina, Auburn, the Dawgs, even Clemson in the ACC- they all use it as a means of defending spread zone running attacks.
The idea is pretty simple:
The defense identifies the side of strength for the offensive alignment, and rotates a safety down into the box just ahead of the snap. The front 7 all have gap responsibilities and the extra body puts the numbers advantage in favor of the defense. It isn't foolproof though and, if the offense has the matchups, it can be exploited.
This season the Dawgs have the matchups.
—
Favorable Matchups
The first weakness is at the boundaries. If a Rip/Liz defense doesn't have physical corners of good size that can lock down boundary receivers, the offense can capitalize. And while you weren't paying attention the Dawgs have been assembling an absolute bomb squad:
RSFr. Matt Landers - 6'5″, 200lbs
Sr. Jayson Stanley - 6'2″, 207lbs
Fr. Tommy Bush - 6'5″, 195lbs
So. Jeremiah Holloman - 6'2″, 200lbs
So. Trey Blount - 6'2″, 200lbs
Jr. Riley Ridley - 6'2″, 200lbs
Physical receivers of good size that can win on the outside are vital to CJC's offensive attack - more on that later. Defenses can feel free to load the box if they want, but their corners will be exposed without help. Especially if you have a heady, accurate quarterback:
Rip/Liz schemes are also vulnerable to speed in the slot and the Dawgs have it in spades:
Mecole Hardman - 5'11″(lol, doubt it but it's what the site says), 183lbs
Demetris Robertson - 6'0″, 190lbs
Kearis Jackson - 6'0″, 200lbs
Ahkil Crumpton - 5'9″, 175lbs
Tyler Simmonswasonside - 6'0″, 201lbs
Terry Godwin - 5'11", 185lbs
Godwin, Robertson, and Simmonswasonside are 'tweeners that will probably get reps both in and out of the slot, but the rest are largely slot specialists with speed to spare. The old cliche about "taking the top off the defense" isn't that far off. Having targets that can reliably get off the line of scrimmage and cause the single high safety conflict is one of the quickest ways to make a defense commit to smaller personnel.
Alabama brings a safety to pressure the QB here. They're already in a smaller package and still can't keep up with Mecole. This is really Cover-1 but you can see what speed out of slot can do to a safety responsible for the entire field:
Smaller defensive personnel is the ultimate goal for any offensive coordinator looking to establish a power running game.
It also helps if there's a ton of beef up front, and the Dawgs have plenty of it.
Everyone that starts on the offensive line this season will weigh more than 300 pounds. And a couple of them are far north of that number.
Andrew Thomas (320lbs) is probably the Dawgs most vital player at any position. He'll slide over to left tackle after an amazing freshman campaign that earned him an All-SEC first team selection this year. Center Lamont Gaillard (308lbs) received All-SEC second-team honors and has a shot at making some good NFL money this season. It's likely that the season starts with Kendall Baker (listed 305lbs) and Ben Cleveland (listed 335lbs) as the guards and Isaiah Wilson (listed 340lbs) at right tackle, though there's debate that the first two will have competition.
The Dawgs run-blocking scheme relies on road-graders up front. If the five guys I mentioned above aren't the ones, there's a treasure trove of young, big talent behind them.
A note: it isn't very common to see a "rotation" on the offensive line, mostly because it isn't very common that you'd have more than five very talented guys at a time. But blocking for inside zone is pretty straight up and down - Sam Pittman doesn't build much exotic pulling into the rushing attack. With that being the case I've wondered if we might see snaps for other guys like Justin Schaffer, Trey Hill, Jamaree Salyer, Cade Mays, Netori Johnson, among others (all north of 300lbs) to spell the first five. Could come in handy against teams with lots of depth in their defensive front.
With the amount of girth up front, it may not matter whether the Dawgs get established first through the air. I've long dreamed of a Dawgs offense that could always get 1 yard if it needed it. This year that might finally be the case.
—
The Dawgs' staff has done a fantastic job of recruiting players who offer optionality and force matchup problems on a defense. Just this week linebacker Monty Rice had this to say about freshman running back James Cook:
I've never played against a running back like Cook before, he has his own little style, and it's very unique. He's very tough to cover … you can't be looking at the quarterback when you cover him, or you'll watch them complete the pass.
The same could be said about stud running back D'Andre Swift, and there are other skill position players that provide intriguing matchups as well. Freshman Kearis Jackson is primarily considered a slot receiver and has the speed and suddenness to support the notion. But he also weighs in at a stalky 200lbs, offering a big target in the middle of the field. Tight ends Charlie Woerner, Isaac Nauta, and Luke Ford all have the size to be enforcers on the inside, but the athleticism to split out as well. Elijah Holyfield runs with speed and power - a different animal than what defenses will see with Swift and Cook.
This offense has the ability to shapeshift if it needs to against elite competition. That alone should have you excited.
—
A Note on the Tight Ends
The preoccupation with the tight ends is almost as baffling to me as enforcing a schedule for winning a title on Kirby Smart. Every place I turn someone is asking when the tight ends are going to get involved in the offense. Folks, what you saw last year was one of the top-15 passing attacks in the nation. But so long as you want to belabor the point, a few notes on our offense.
This is inside zone. About 90% of college offenses incorporate some version of it as their base offense. It's not pretty below, but like Coach Boone says - "It's like Novocain, just give it time…always works."
The Dawgs have a number of inside running concepts, but a lot of Chaney's play-action and RPO designs come from this look.Inside zone is Jim Chaney's true north. It's where we'll start each game and where we'll try to get back to if a defense is denying it from us. This is a power running football team and that identity comes directly from CKS. It's been that way in some form or fashion for as long as I've been watching Georgia football, but especially so now.
If SEC football is chess, the defense makes the first move. In the event that we're playing Alabama, Auburn, South Carolina, or any of the other Rip/Liz teams, typically you'll see opposing defenses try to take inside zone away from us by rotating a safety down into "the box" and beating it with numbers. If they have one more than you can block, math says they win.
From the point they commit the extra player, Coach Chaney's charge is to get that extra man out of the box so that he can get back to running inside zone. There are a number of ways to do that, but typically you would do it by targeting defenders that are in conflict by the alignment.
First off, you have the corners out on islands matched up against receivers. Javon Wims had an enormous year last season feasting entirely on single coverage matchups afforded him by defenses loading the box to stop inside zone. This season you can expect Riley Ridley, Demetris Robertson, Matt Landers, Terry Godwin, and others to be factors for the same reason. They all have either the size, athleticism, or both to win in one-on-one matchups.
You'll also typically have a defensive back or linebacker who is truly in conflict, with both a gap responsibility in the run game and matchup responsibility in the pass game. This is your "chicken" for the RPO plays that have become the fashion in recent years. He is vulnerable in the space behind the second level of defenders. In the example below, everyone in the second level and the high safety bit on the run action.
Finally, you'll have a single high safety who's job is to make sure no one gets behind him. Speedy slot receivers that can test the seam or beat him to the boundary are a massive advantage in the offense's favor. 52.5 yards is a lot of ground to have to cover by yourself when the Dawgs have speed challenging you from both sides of the formation.
That free safety getting beat will signal to a defensive coordinator that it's time to start rethinking strategy and personnel. The defense will need to get "smaller" by bringing in faster personnel and "expand" to cover the amount of space the offense is dictating.
Often you can stop right there. When the defensive coordinator has brought in an extra defensive back or rotated the second safety back out of the box, the Dawgs can go right back to inside zone. And that is the dance.
Whether the tight ends become a receiving threat this season is more to do with matchups than anything else. Certainly with the amount of speed and play-making that the Dawgs have on the outside, defenses are going to have to decide who they take away. And I doubt that decision will be the tight ends. There will be moments where Coach Chaney will be able to use the tight ends to beat in-the-box defenders who are committing too willingly to the running game. So those of you clamoring for more tight end involvement may well get your wish.
But it's important to note that isn't the point. Offense isn't about making sure everyone touches the ball. It's about placing defenders in conflict and taking advantage of them. Whatever player benefits from the defender's conflict gets the ball. As the ole cliche goes, you gotta take what they give you.
Justin Fields
If you remember back to last year's post, I wrote:
Standby for the hottest of hot takes: I'm not sold that Jacob Eason is "the guy" yet. I'm not trying to get a rise out of anyone with that or advocating for giving Jake Fromm snaps. I actually think Eason checks most of the boxes of the kind of talent you want managing an offense. The only thing that makes me have pause about him is the strength of his arm. He has a freaking cannon and relied on that more than he should've last season, at the expense of his mechanics and better judgement.
Welp folks, I am indeed convinced that Jake Fromm is "the guy." You need look no further than the play in the Rose Bowl to see why.
Rose Bowl, Down 7, a minute left in the 4th , 2&10 from the 23, and he threw it away when nothing was there. Savage.
Even if he makes some mistakes this season, those should be viewed as necessary learnings for a quarterback on his way to becoming elite, not as opportunities for the next guy. It may not be this season, but Jake Fromm will captain Georgia back to the Playoff. So sit tight and don't start barking for Fields at the first available moment.
You've already got your guy.
—
Fields will play though and I've been thinking a lot about how. Scripted series and redzone offense seem to be common takes across Dawg forums, but I could also see him participate on third-and-short, third-and-long, and in two-minute offense before the half.
Coach Chaney expressed some reservations with using Fields as a primarily run-first quarterback. That's fair, owing to those two being the only scholarship quarterbacks on the roster - you don't want to hurt the guy if you can avoid it. But as CKS is fond of saying, for some of these guys you don't get to keep them longer than three years anyway. There's no sense waiting for tomorrow for someone like Fields, you gotta use him while you got him.
I have a few ideas about how.
The Fields Install
Clemson QBs Deshaun Watson and Kelly Bryant are pretty comparable players to Fields physically. Clemson's offense is built to allow an athletic quarterback to play in space and make quick decisions based on reads at the line. A few base looks give the defense a lot to deal with.
Q Counter to establish the quarterback as a run threat:
Ole reliable, inside zone:
Pull the handoff when they overcommit to inside zone:
Incorporate a screen element on the edge so that they maintain their spacing:
A speed sweep for the same reason as the above:
From there a basic inside zone RPO and/or a downfield play-action element once you've both established the run and forced the defense to commit to it:
Inside zone play-action. Ends poorly because Malik Hooker was a bad man.
That set of options would be a lot to handle inside the 30 yard line with Fields under center.
—
A Dream for the Offense
In the 2017 National Championship Clemson found themselves stymied in the fourth quarter whenever they tried to get back to their version of inside zone. It just wasn't there. And quarterback Deshaun Watson was getting pressured heavily by Alabama's front 7. Co-offensive coordinators Tony Elliott and Jeff Scott opted to switch to a spread, tempo passing game out of five wide receiver sets. They got the ball out of Watson's hands quickly so that pass rush wasn't a problem and started moving the ball. Once Alabama re-committed to stopping the pass, the run game opened back up for Clemson and they sealed it.
What I just described is what I wish the Dawgs had in their back pocket in the fourth quarter of the title game last season. There were no running lanes and there was no time for long-developing pass plays.
As an aside for the nerdz: Josh McDaniels has done something interesting with this concept for the Pats over the last three years. He'll establish his normal 21 personnel, with a fullback, first. Then later in the game, he'll run the same personnel out but have them break the huddle into a five-wide set. The defense is typically in their base personnel, and it's almost comical to watch the linebackers look over like, "What do I even do?"

The Dawgs have the kind of personnel to pull this off. Show the I-formation, toss/crack package that Chaney is fond of early on, and then break the huddle into five-wide later with the same personnel when you need tempo passing.
Players to Watch
I have three: Elijah Holyfield, Tyler Simmonswasonside, and Jayson Stanley.
It wasn't much more than a year ago that folks were calling for Holyfield to potentially transfer after being buried on the depth chart. About two hours ago, while I was writing about the Dawgs offense, Zamir White's freshman season ended with a non-contact injury. All of a sudden Holyfield's role on the offense is all the more clear. He'll probably absorb many of the carries that Zamir would've received this year, and he's got the skill to do something with them.
With the size of the mammoths that are blocking, and the speed and matchups on the outside, there will be running lanes available for aggressive backs, and aggressive is Holyfield's style. I also just appreciate that he worked hard and waited his turn. He's due for a huge year and deserves it.
My second favorite run of the year:
And Good Lord, it ain't a Dawgs preview without a breakout year prediction for both Stanley and Simmonswasonside. Every year I write about these two guys for the same reasons, they dominate on special teams and flash in the spring game. This year feels like it might be their time though. I've counted five times that Kirby has singled them out as players that are excelling in fall camp, despite deep competition in the receivers room. Often you see that happen so that five star guys don't get lazy, but it doesn't feel like that this time.
A Modest Prediction
It's a rare year that the Dawgs are carried by their offense - and that's certainly not the way Kirby would prefer it - but that is my prediction for this season. Defensively there are holes. The Dawgs may need to outscore elite offenses in order to win, but they have the matchups and the scheme to do it.
It's been a long time since the Dawgs had the same Opening Day starter at quarterback two years in a row. Technically, Fromm didn't start last season, but close enough. The training wheels are off now and his surrounding cast is close to matchup-proof.
Time to dominate on O.
Defense
Everything I've written so far on Rip/Liz strategy applies to the Dawgs defensively as well. The success of our defense hinges on it's ability to stop the run. Despite their experience and talent, last season's defense was average in that regard.
When opponents decided to run the ball, the Dawgs rarely stopped them at or behind the line (96th in stuff rate) and were in the middle of the pack in terms of giving up the necessary yardage (27th in rushing success rate.) Not bad necessarily, but it'll get you beat in games where possessions are roughly equal between teams.
It helps when you have an elite player capable of making timely plays.
Short of Ed Reed and Sean Taylor, I think Roquan Smith is my favorite defensive college football player I've ever watched. He is the reason the majority of the Dawgs havoc plays came from the linebacking corps in 2017. And he's responsible for one of my favorite Dawgs moments:
Roquan is gone though, and his absence begs a bigger question - if the Dawgs were average at stopping the run last season with him involved, how do they stand to do it without him?
—
In an ideal world your front 6 or 7 would be able to stop the run all on their own - part of the reason why Miami DC Manny Diaz thinks the defensive line is the most important unit on any team. But DC Mel Tucker and Kirby Smart want to be able to commit an extra safety against the run as long as they can/have to.
This places a lot of trust in the corners' ability to play lock down coverage on the outside. Last season senior Deandre Baker was otherworldly. I think it was lost on folks that he had a turnover in every postseason game, recording a pick in the SEC title, the Rose Bowl, and the National title - it was just that two of those were called back.
The trouble was on the other side. Tucker and Smart relied heavily on undersized (though experienced) senior Malkom Parrish, and Parrish was often overmatched. It can't be laid entirely on Parrish, but the Dawgs gave up big plays in passing situations - they were 81st in the country passing down explosiveness. Ultimately, when elite teams needed to throw against the defense, they were able to, and they gained big yardage in the process.
This season the Dawgs are trading experience for talent and a physical profile more fitting with what Tucker and Smart are after in the secondary. Much like the bomb squad he's built on offense, Kirby has recruited size and speed on the outside:
Fr. Tyson Campbell - 6'2″, 185lbs
So. Ameer Speed - 6'3″, 211lbs
So. Mark Webb - 6'1″, 200lbs
So. Eric Stokes - 6'1″, 185lbs
Fr. Chris Smith - 5'11", 180lbs
So. William Poole - 6'0″, 190lbs
Speed and length are common denominators amongst all of these guys. Who will anchor the boundary opposite Baker is up for debate, but there is talent on the DB roster that's been absent the last two years.
The free safety position responsible for the middle third of the field will be held by sophomore Richard Lecounte. Lecounte has the athletic ability to be among the top safeties in the history of Georgia football. It's clear that Kirby thinks highly of him - he's been vocal in the media calling for Richard to step up into a role of leadership this season. If you're getting yelled at publicly, you're on the verge of making Kirby's inner circle.
Depth in the front seven is the largest issue.
Up front I expect the line to be anchored by Julian Rochester, Tyler Clark, and Jonathan Ledbetter. The latter two garnered third and fourth-team All-SEC selections, respectively, but what Rochester brings to the table is an unknown. The void left by Big John Atkins really isn't something this year's Dawgs have much of an answer for. Underclassmen Devonte Wyatt and Jordan Davis offer the kind of size Atkins had, but not the experience or skill. Daquan Hawkins-Muckle will live in our memories forever for his timely blocked field goal in the SEC Championship, be he too is an unknown on the inside.
Grad-transfer Jay Hayes has also garnered praise in camp for his motor and want-to, but I have a hard time thinking the Dawgs will find themselves improving on last year's numbers in run defense. Even with the experience of junior safety JR Reed rotating down to help in run defense, I don't see it.
Matchup-Proof Defense
You don't have to look too far back into your memory to find what a modern defense needs to be built like in order to dominate. 2017 Alabama was about as matchup-proof as it comes. Defensive tackle Da'Ron Payne commanded (and beat) regular double teams, eating centers alive all year. Linebacker Rashaan Evans was equal parts enforcer and athlete, capable of fitting to stop the run, contributing pass-rush, and covering any athletic profile. And Minkah Fitzpatrick was even several steps above Evans.
Modern defense requires these aces. With the advent of a mobile quarterback operating out of scheme that dictates favorable matchups using space, the game has turned from being predominantly played 10-on-11 (cancelling out immobile QBs) to being played 11-on-10 (the 11th defender being cancelled by conflict.) So long as offenses continue to space the field with speedy athletes, there just have to be monsters on D who can handle it all.
The Dawgs are building the kind of defense that will one day be able to cancel out the advantages competent offenses have on them now. Freshman corner Tyson Campbell and resurgent sophomore utility-DB Deangelo Gibbs have the athletic profile needed in the third level. Freshmen Quay Walker and Channing Tindall have the size and speed to be shapeshifting linebackers. Freshmen pass-rushers Brenton Cox and Adam Anderson have the build to command attention up front and on the edge. And it bears mentioning there's another crop of talented interior defenders headed to Athens in the class of 2019.
But overall, the Dawgs find themselves vulnerable up the middle. It will take a massive jump for Rochester or one of the freshmen DTs to convince me otherwise. For now though, they'll rely on Ledbetter, Clark, and a committee of linebackers to defend the run. I'll believe it when I see it.
Players to Watch
Mark Webb, Eric Stokes, Tyson Campbell.
In an ideal world, the pass rush gets home and your secondary benefits from the lack of time a quarterback has to make decisions. Whether the Dawgs can rush the passer with three or four is as-of-yet up for debate. That in mind, Deandre Baker, Richard Lecounte, and whomever wins the second corner spot can expect to get tested - especially so, if Smart and Tucker need to commit extra resources to stopping the run. All three of Webb, Stokes, and Campbell will get their shot to lock down the job.
Tyler Clark
Honestly I just love the guy and want to wish some good juju his way. Undervalued out of high school, fought his way into the rotation as a freshman, ended last season as arguably the best defensive lineman on the team. This is his year.
D'Andre Walker
You know, I owe 15 a big time apology. I think he'd admit that as a younger Dawg he was way too undisciplined a player on Saturdays. Truly, with the exception of Isaiah McKenzie, I don't think I've seen so many unnecessary personal foul/unsportsman-like penalties from anyone in my time watching college football. But a switch went on for him last year. He was a fantastic pass-rush specialist, but I think it's lost on people that he was easily best at setting the edge on defense last year.
Time and again in important games - Florida, Auburn, Oklahoma, the Natty - Lorenzo Carter and Davin Bellamy got caught cheating inside only to have backs beat them to the edge for big gains. It was easily the most frustrating part of watching the Dawgs defense last season for me. Not with D'Andre though. He was consistent all season in playing his assignments. He dominated Georgia Tech.
Time for him to go make some $$$.
Specials
The Dawgs were elite in every way on special teams last year. I'm not even going to spend any more time on it. Rod is magician, freshman Jake Camarda can boom it. They have fast guys that can cover it. They will dominate again.
A quick note on the importance field position plays on a team's chances to win. This is an excerpt from Bill Connelly's book Study Hall:
A team's average starting field position was worse than 24.0 (i.e. the team's 24-yard line) in just 14.1 percent of the 2012 FBS vs. FBS games. It was better than 36.0 just 15.7 percent of the time. In most games, teams were trying to average in the 32–36 range (win percentage in this range: 66 percent) instead of the 24–28 range (win percentage: 32 percent).

These aren't huge numbers. On average, a team got 13 possessions in a given game; the total difference between an average start of 26.0 and an average start of 34.0 is just 104 yards (13 possessions times 8.0 yards). One turnover could mean a difference of about 40 yards. One field-flipping punt that bounces past the punt returner and rolls a while could mean 25 yards. One huge stop on a kick return could mean 15 yards. A sack on third-and-long, instead of a short completion, could mean 15 yards. A third-down conversion that simply extends a drive from three-and-out to six-and-out could mean 10 yards. And just like that, you're at 105 yards, and you've gone from likely loss to likely win.

That is a bit of an extreme example with a significant special teams impact, but one can see how smaller plays, particularly third downs, can add up quickly. And almost nothing is more devastating to your field position cause than a three-and-out, especially if a drive involves a sack or negative play on third down. Never mind the impact such a series might have on momentum; that's significant enough. It can have an even larger impact in the field position battle.
In other words, the value of field position in the outcome of a game is non-trivial and: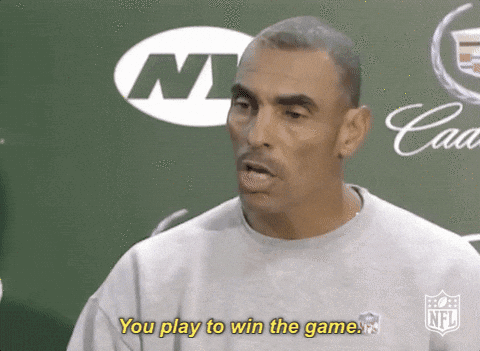 If you ever wondered why Sony Michel, or Mecole Hardman, or Lorenzo Carter, or Zamir White were getting meaningful snaps on special teams, 'das it.
It's unfortunate that Zamir got hurt, but from what I understand he wasn't running with the 1s, and getting a guy playing at game speed after he's been fully cleared from a previous injury is hardly a crime. Especially not on specials.
The Schedule
According to S&P+ data, the Dawgs are favored by more than 15 in all but four games. The four:
South Carolina
I went to a Terry alumni event in Atlanta a few weeks ago where Tony Barnhart and Aaron Murray held a panel on the outlook for the Dawgs and the SEC this season. Tony and Aaron both were on board with Carolina being an early trip-up owing to recent history at Williams-Brice and the Dawgs breaking in new starters on defense.
Nah.
At the very least Carolina's defensive front will be overmatched by the Dawgs starting five linemen. Even if they have their best day, there's too much talent on the Dawgs roster for the Cocks to compete for four quarters. This will be a higher scoring game than it has been recently, but the Dawgs will dictate on the ground.
My confidence meter is at a 9 for this game.
Sorry 'Champ.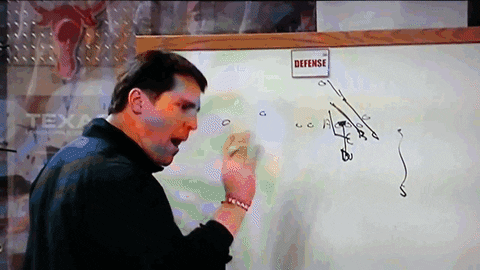 LSU
Ed O picked a terrible time to have a really difficult schedule.
By the time the Dawgs show up in Death Valley it's realistic that this team is limping at 2–4 with all of Baton Rouge castigating Orgeron and Ohio State-transfer Joe Burrow. That place doesn't take too kindly to losing. To their credit though, the Tigers have All-SEC talent at all three levels on defense and haven't recruited as poorly as you'd think over the last few years.
Regardless, that's a top-heavy schedule and it doesn't get any easier after the Dawgs show up. If I stare at it long enough I start to see a slugfest with a top-20 LSU defense trading blows with a top-8 UGA offense. But until LSU figures out a running game, I'll remain more confident than not.
Confidence meter: 8.
Florida
Of the in-conference games to be concerned about, this one tops my list.
Florida was garbage in virtually every offensive category, but managed to find ways to run the ball in spots last season. Lamical Perine, Malik Davis, and Jordan Scarlett can play. Mullen's scheme should eliminate the decision-making that Franks struggled with last season, assuming it's Franks who gets the nod at Q. Even beyond Auburn, this strikes me as the team that could expose the Dawgs lack of run defense in the middle.
It bears mentioning that there's some angst in Florida now in the same way there was around these parts in 2016 when we limped past Nicholls State. The recruiting arrow is pointing definitively downwards and the team ain't exactly composed of the most well-adjusted gents in the world. If the Dawgs take care of this one in sound fashion, I could see us going on a run against the Gators.
Confidence meter is at a 7.
Auburn
I really love Gus Malzahn. Shameful I know, but his offense is my favorite to watch. This year especially will be intriguing. He's had eight offenses in his time as coordinator and head coach at Auburn, and all of them had a running back capable of handling a heavy load of carries inside. With Kerryon Johnson and Kam Pettway gone, that responsibility appears to land on junior Kam Martin. Auburn's team site has him listed at 5'10", 193lbs, but that seems generous looking at the guy.
It can't be understated that everything that Gus calls is rooted in the running game. His offensive install days are even built around "anchor" running plays that all the subsequent plays "look" alike. Their offense virtually mirrors the Dawgs approach - a downhill running game built to setup occasional downfield shots - they just make it look a little prettier.
Again, if you stare it long enough you find an O-line that was porous in pass protection last season and an undersized back that doesn't seem to fit the scheme - this might be the year that Gus struggles to find answers.
It bears mentioning also that the Tigers front-7 is one of the two most fearsome units in the league this season (MSU being the other). Even though the game is at Sanford, we'll have trouble establishing the run against them.
Confidence meter: 7.
Composure and Physicality
The best college football teams I've ever seen are animals against the run. Whenever I "assess" teams that have championship expectations in preseason, I look at defensive line first. Who's got it a championship d-line this year? Clemson. Auburn. Mississippi State. Maybe Washington. Ohio State. Michigan. Alabama. Penn State. Maaaaaybe Wisconsin.
That's it by my count. At that point I go back through that list and look for teams that have either 1) a great quarterback or 2) a quarterback that doesn't make dumbass decisions. Who's got it this year? Auburn. Penn State. Maybe Clemson. Maybe Alabama. Maaybe Washington. Maaaybe Michigan. Maaaaaaaaaaaaaaa-doubt it-aaaaaybe Wisconsin.
Aside: Worth noting how rare it is that you get both - but if you look at back at Championship winners gone by, you start to see the trend…
And at that point it becomes a fun thought exercise.
Auburn seems like a playoff contender, but they replace three people in their secondary and don't have a proven back that can run downhill. Clemson has an elite defense and elite playmaking ability on offense but their quarterback (Kelly Bryant) isn't a consistent threat throwing the ball. Clemson also has a true freshman QB who is highly touted but an unknown (Trevor Lawrence.) Alabama replaces all three of their matchup monsters from last year's defense and has to replace their entire secondary. Washington's QB (Jake Browning) made some undeniably silly decisions last season. Ohio State…
All I'm saying, folks, is that there's a window here. So far at the start of the year we don't know of any complete teams. With the roster the Dawgs have put together, it's starting to look like one. It doesn't quite look like one yet to me, but it's damn close and I believe in Coach.
Potential vs. execution.
I think this year's team has the potential to win at least 10 games. I would be surprised to see more than two losses in the regular season.
If this team plays with the kind of composure and physicality that last year's did…
I'll see you in Arlington/Miami.
—
As always folks, treat your fellow Dawgs and competitors - even when you undoubtedly get accosted in Columbia - with respect and integrity. Pick up after yourself, especially on campus. Let's have a helluva year.
It's great to be a Georgia Bulldog - keep choppin' that wood!
My favorite run of the season: